Happiness is probably the most pursued factor in life, above wealth, health, and good relationships. We all want to be happy, above everything else, right? Who cares about money when you're not happy? Who cares about friends when you're not happy with who you are? Who cares about good health if you're lonely and depressed?
Happiness is the thing that most people want, yet it is one of the most difficult aspects of life to quantify. How do we measure happiness? How do we define happiness? What is happiness!? This is an essay that explores the many different faces of happiness. As you'll learn, happiness doesn't have a single universal definition. Its definition is unique for every single human being out there. Including you.
After reading this essay, you'll know exactly what happiness is, how to define it for yourself, and even how to find it based on actionable advice.
What is happiness?
Before starting this essay about happiness, we must at least have a broad idea of what happiness is. Let's first have a look at how happiness is defined across the web.
Definition of happiness
Definitions of happiness vary quite a bit across multiple sources. Google thinks happiness is defined as follows:
The state of being happy

You can see how Google is pretty vague about the definition of happiness. Furthermore, it quickly follows with a long list of synonyms.
Wikipedia has a much more interesting definition of what happiness is.
The feeling of an emotion such as pleasure or joy, the appraisal of life satisfaction or the quality of life, subjective well-being and eudaimonia.

Lesson learned? It is really difficult to find a universally correct and agreed-upon definition of what happiness really is.
💡 By the way: If you want to start feeling better and more productive, I've condensed the information of 100's of our articles into a 10-step mental health cheat sheet here. 👇
This Cheat Sheet Will Help You Be Happier and More Productive
Thrive under stress and crush your goals with these 10 unique tips for your mental health.
Think of all the synonyms that we use to describe feelings that are similar to happiness.
Happiness synonyms
What I like about Google is that it shows synonyms of happiness to people that are looking for its definition.
It's like they're saying: "Hey, we don't know exactly how to define happiness, but here are a couple of concepts that we believe are very much similar!"
The list of synonyms is quite big:
Joy
Contentment
Satisfaction
Delight
Enjoyment
Carefreeness
Cheeriness
Etc
Etc
I think there is a lot we can learn just from the fact that happiness has so many synonyms.
Why? Because these synonyms are all specific variants of what happiness means to me. And I bet you feel the same.
All these different emotions are part of what happiness truly is. And that's what makes happiness so incredibly difficult to define and measure. It's a weighted average of all these different synonyms, and the equation of happiness truly changes per person. I'll even go as far as to say that the happiness equation changes per person per day.
If pleasure makes me happy today, it doesn't mean that that same amount of pleasure makes me happy tomorrow.
If short-term satisfaction made me happy yesterday, then it won't necessarily make me happy next week.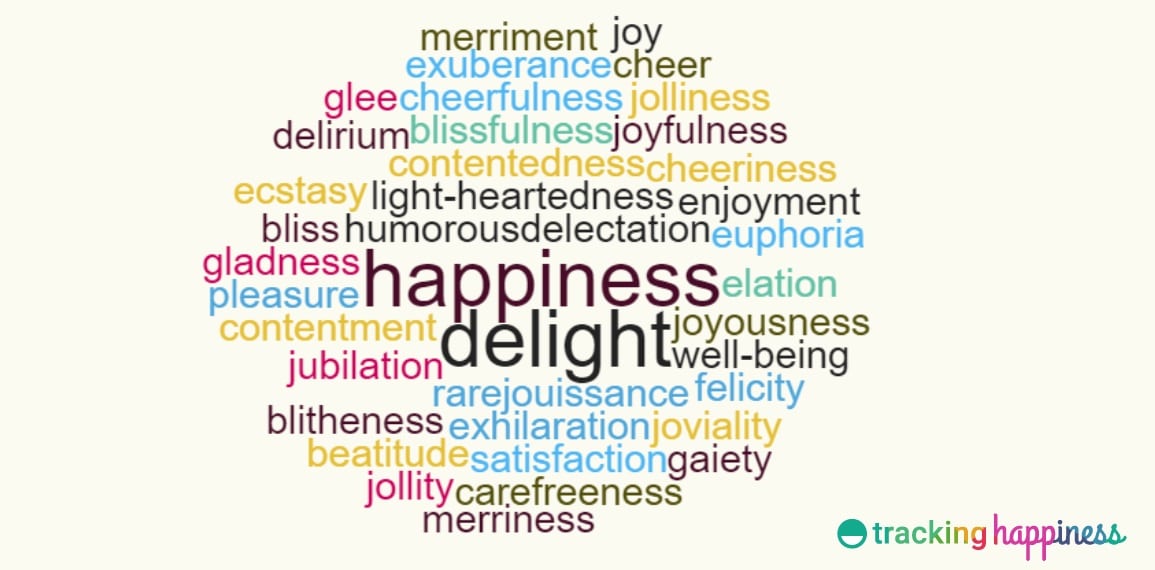 What I want you to realize is that your personal definition of happiness is unique. What makes you happy doesn't necessarily make another person happy. In fact, your definition of happiness is likely a combination of satisfaction, cheeriness, merriment, and jollity.
But the way you personally define happiness will likely change from day to day as well.
And that's one of the most critical aspects of happiness. That's also why it's supposedly so hard to measure and quantify. Here's an entire article I wrote recently about how difficult it is to define happiness, but you can still try for yourself!
Still with me? Good, because I'm going to add yet another reason why happiness is such a difficult thing to measure!
Different kinds of happiness
There are different kinds of happiness. Not just in the way we define happiness, but also in the way we experience it.
As part of this essay, I want to introduce the concepts of short-term and long-term happiness.
Short-term happiness
Short-term happiness is relatively easy to explain. It's based on small and easy to obtain, yet rather unsustainable happiness. When looking at the list of happiness synonyms, I think the following concepts are clearly centered around short-term happiness:
Pleasure
Joy
Ecstasy
Cheeriness
You see, short-term happiness is based on the release of the chemical dopamine in our brain. This organic chemical is released whenever we are stimulated by things that please us. Some examples are sex, having a laugh with friends, finishing a race, watching a funny video online, or watching an exciting game of football. A more extreme example is drugs.
These things result in short-term happiness because dopamine is released based on a single event. When this event is over, the pleasure is gone. That's why I consider this to be short-term happiness.
And then there is long-term happiness.
Long-term happiness
Long-term happiness is a little bit harder to explain because it revolves around other concepts of happiness. Instead of joy, pleasure, and ecstasy, the concepts that make up long-term happiness are:
Contentment
Satisfaction
Well-being
Carefreeness
I hope you can spot the difference here. Long-term happiness is created by feeling happy about your purpose in life, the successes that you've had and/or the satisfaction of who you are and what you've accomplished. Long-term happiness is based on concepts that are not created by a single event. For example, I'm happy at the moment because I'm grateful for the life that I have right now. This happiness is not caused by something I'm doing at this very moment. No, I'm happy because I work hard and have achieved things that I am proud of. I have created a situation in which I am happy by default, without having to rely on single events.
Now that you are aware of these two different kinds of happiness, I want you to picture some scenarios.
Picture a life in which you spent your youth partying, doing whatever you want to do, using drugs and living without planning for a good future. Sure, you feel pretty happy when doing these things, but you can probably see how this lifestyle will eventually catch up with you, right?
You might have guessed it, but this scenario is focused exclusively on short-term happiness. And the simple fact is that pursuing nothing but short-term happiness does not lead to a sustainable happy life.
Now picture the following scenario:
You're in your early twenties and want to become the next Jeff Bezos or Elon Musk. You have great ambitions and are incredibly disciplined and inspired to become everything that you think you can become. You spend an incredible amount of time working on your projects, and you even make sacrifices just for the sake of your goals. You don't have time for sleep, social activities or relationships. Hell, even your health starts to decline. It doesn't matter though, because you eventually want to reach your goals, and then you'll be happy right?
This is another extreme example of happiness. You can probably see how this person is very likely unhappy. He is spending the best years of his life making sacrifices in anticipation of what he eventually wants to become. For a lot of people, this sounds like a logical decision. But to me, this sounds like a huge mistake. You might feel satisfied with the progress you're making, but are you truly happy? If you get in a fatal car crash tomorrow, would you have any regrets?
I want you to think about this for a moment since a lot of people in industrialized countries have the urge to constantly be planning for the future. And while this is not a bad thing in principle, we often take it too far. As a result, we are constantly sprinting from one deadline to the other. Sure, you want to plan for a happy future, but what's the point of all of this when you're not happy in the process itself?
A happy balance
The thing is, these extreme examples are not something that you should want. You can only lead a truly happy life when you actively pursue both short-term and long-term happiness.
It's important to find out what your perfect balance is.
I'm not here to tell you that you should focus 50% of your attention on short-term happiness and the other 50% on long-term happiness. No. I'm here to tell you that you should be aware of your own happiness. Every single person on this planet has a different definition of happiness. You need to find out what happiness means to you, and how you want to pursue it.
They say happiness is a journey and not a destination. I think happiness can - and should - be both.
For me personally, I often notice how much short-term happiness I'm sacrificing in anticipation of long-term happiness. Some examples:
I go out for a long-distance training run in the pouring rain because I want to eventually finish another marathon in 3 months. I don't even enjoy the long-distance run but I think that it will eventually lead to a great finish time, and thus long-term happiness.
Instead of just playing a videogame, I decide to write an essay about my understanding of happiness. Why? Because I think it will grow my website, which will make me happy in the long run.
I skip a nice snack because I want to maintain my weight
These are some real examples of how I've been sacrificing my short-term happiness for long-term happiness. I want you to think of a couple of examples for yourself. Have you ever made a bad decision that resulted in a decreased level of happiness?
Think about some real scenarios that you've experienced and whether you should have acted differently.
I'm not saying that sacrificing short-term happiness for long-term happiness is bad. I just want you to know that you need to find a balance. For example, I do actually want to finish my next marathon within a decent time, but I'm not going to make myself miserable by pushing myself to the limit in preparation. That's not the balance that I'm after.
The thing is, realizing the difference between short-term and long-term happiness makes it easier for us to pursue happiness in our lives.
Pursue happiness, you ask?
Yes! I believe that happiness can actively be pursued and that you can steer your life in the best direction possible by doing this. However, there are a number of people that believe that pursuing happiness is a loser's game. These people argue that by pursuing happiness, you'll be more tempted to choose short-term happiness over long-term happiness. This is where the hedonic treadmill will quickly evaporate whatever happiness you've created for yourself.
The hedonic treadmill
Imagine something that you would really like to do right now.
What did you think of? Taking a long warm bath? Drinking wine with your friends? Going to an amusement park?
Wouldn't it be great if you could do that right now? That would definitely have a positive influence on your happiness, right?
Now think about doing that exact thing every day, for the rest of your life, until the day you die.
Do you think you'd still be happy from doing that same thing after the 10th time? Or the 100th time? Or the 1000th time?
Why eternal happiness doesn't exist
The answer is probably no. Even though this example is extreme, the theory of diminishing returns applies here. When repeated, the effect of the same event on your happiness will diminish to zero. That's because the norms of what defines your happiness are constantly adapting. Your happiness equation transforms with your changing life, whether it's for better or worse.
One of the best examples of this hedonic treadmill is the following:
Think of a big salary bump. You receive a raise of 50%! Congratulations, you now have money to spend on all kinds of things that make you and your family happy! Will that happiness sustain into the future? Unfortunately not. Instead of appreciating the luxury of your raise, you will grow accustomed to this extra money and will slowly take it for granted. This adaptation is known as the hedonic treadmill, and it is generally conceived as the arch-enemy of happiness.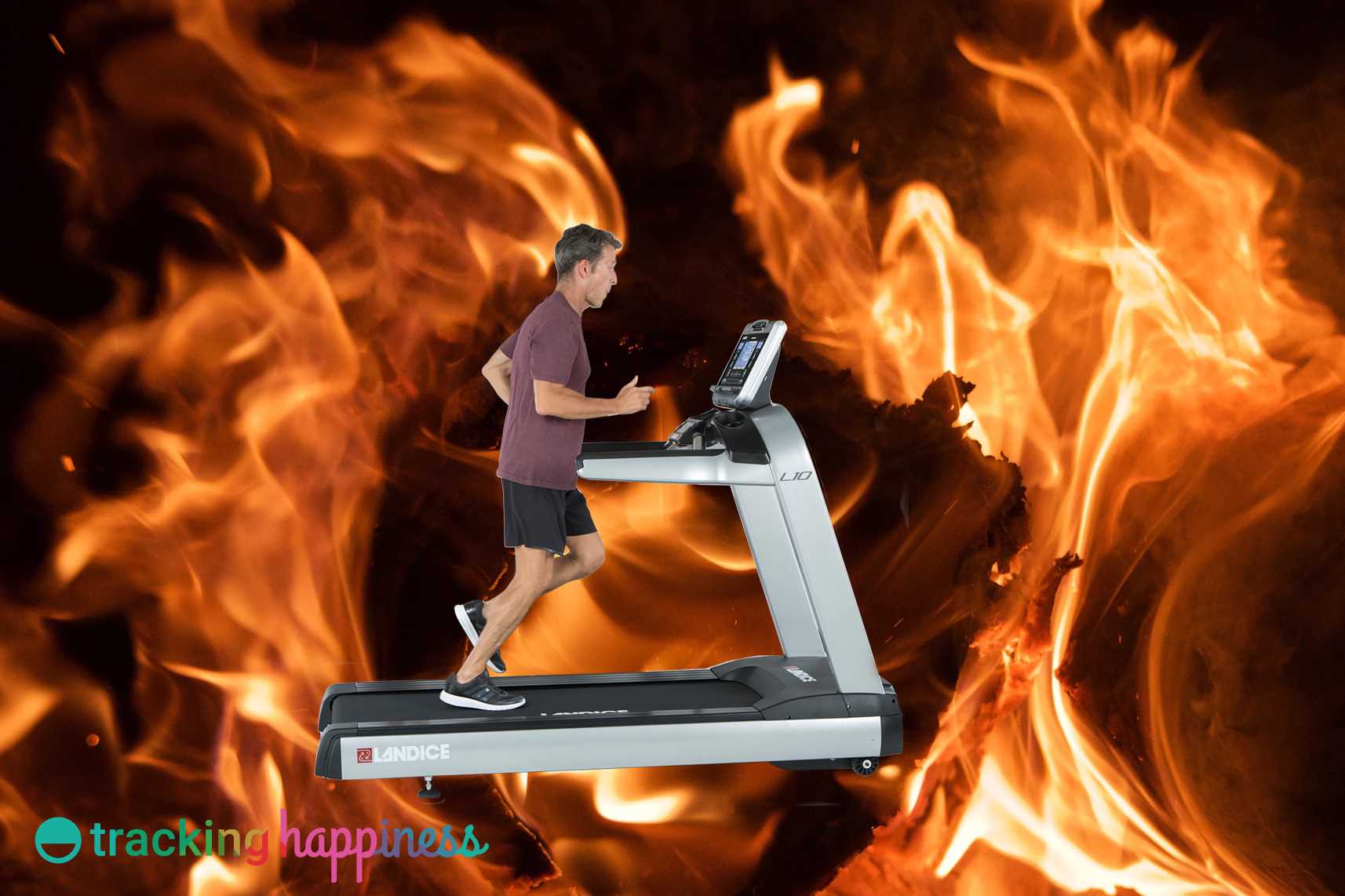 Why eternal happiness can still be pursued
Now that you know what this hedonic treadmill is, it might seem like a waste of time to continue reading this essay, right?
NO! While the hedonic treadmill is very much real - I'll never deny that - I don't want you to think that greater happiness can't be achieved. You just need to be willing to actively look for it in the right places.
See, nobody on the internet will be able to define happiness for you. What makes you happy is a constantly changing equation that is unique in every way. Why would you believe some scientist when he or she claims that happiness is impossible to pursue? What does that scientist know about you? Nothing!
It's up to you to define what makes you happy.
How to find your own happiness
By now, you should know 3 things:
Your happiness equation is unique. Nobody can tell you what exactly to do in order to be happy.
You can pursue both short-term happiness and long-term happiness. The key is to find the perfect balance between the two. You can be happy on the journey towards a happy future.
The hedonic treadmill will diminish the effect events have on your happiness over time.
Let's combine this knowledge. I want you to realize that you can learn more about your own happiness equation. You can find out what it is that makes you happy.
Got it? Good, because the next step is to define what the difference is between short-term and long-term happiness. You have to find out how much you value your happiness on the journey itself and how much of that happiness you want to sacrifice by investing in a potentially happier future.
Now, what if I told you that a perfect balance between long-term and short-term happiness can limit the effect that the hedonic treadmill has on you?
Yes, by consciously varying the pursuit of short-term and long-term happiness, you can vary the factors in your life in a way that leads to greater happiness. If you are aware of your own happiness equation, you're able to pursue happiness in the areas where it matters the most.
Defining your own happiness
What I want you to do is consider your personal happiness again for a moment.
Think back at the last week, and remember what things or events had a positive influence on your happiness. Think of the things that really made you smile or feel satisfied with where you were or how you acted.
What came to your mind? Was it work? Was it your relationship? Was it that silly movie you watched? Was it a nice sunny day spent outside? It could be literally anything! What I want most of all now is that you realize how you just measured a part of your happiness.
You see, even though happiness is claimed to be the factor of life that's the most difficult to measure, you can still measure what is currently part of your happiness equation. It's simple. For me personally, when I think back to yesterday, I remember that I really enjoyed spending time with my girlfriend, walking through the woods on a sunny day, and just relaxing (a.k.a. doing nothing!)
These are happiness factors that were a vital part of my happiness equation yesterday. It was a weekend day after a long and busy week at work, so I was really trying to find some short-term happiness. The things that I did yesterday were perfect, as it was a very happy day for me.
You should not be surprised if I told you that I was consciously trying to be happy by spending my day doing things that satisfied my short-term happiness.
You can do exactly the same. All you need to do is to define your own happiness.
💡 By the way: If you want to start feeling better and more productive, I've condensed the information of 100's of our articles into a 10-step mental health cheat sheet here. 👇
This Cheat Sheet Will Help You Be Happier and More Productive
Thrive under stress and crush your goals with these 10 unique tips for your mental health.
Closing words
And with that said, I want to conclude this essay about happiness. Happiness is different for every single human being on this planet. If you arrived at this essay without having a clear idea of what happiness is, I hope you now know that your personal happiness can be defined, measured, and quantified. But only YOU can do this, no one else will be able to tell you what happiness really is. If you are willing to actively pursue greater happiness, I believe you can steer your life in the best direction.
Now it's time to hear from you! How do you define your own happiness right now? What has been your biggest happiness factor last week? Do you think you can learn from your own happiness?
I'd love to hear all about it in the comments!