PHP, JavaScript, HTML, web hosting and CSS.
What do these things have in common?
Answer: I had no idea what they all meant 6 years ago. (there are probably more correct answers) But that didn't stop me from registering www.trackinghappiness.com on April 1st, 2017.
Tracking Happiness started as a very simple blog. I wanted to share with others how powerful tracking my happiness was, and how it has positively influenced my mental health, self-awareness, and my life in general.
This short post will showcase some of the site's design changes, to show you what a complete design newbie (like me) can do with a bit of time on his hands.
2017 design
At first, I had no idea how to design a website (let alone make it pretty, but I didn't learn that any time soon). So I just used a standard website template and went from there.
This is what it looked like: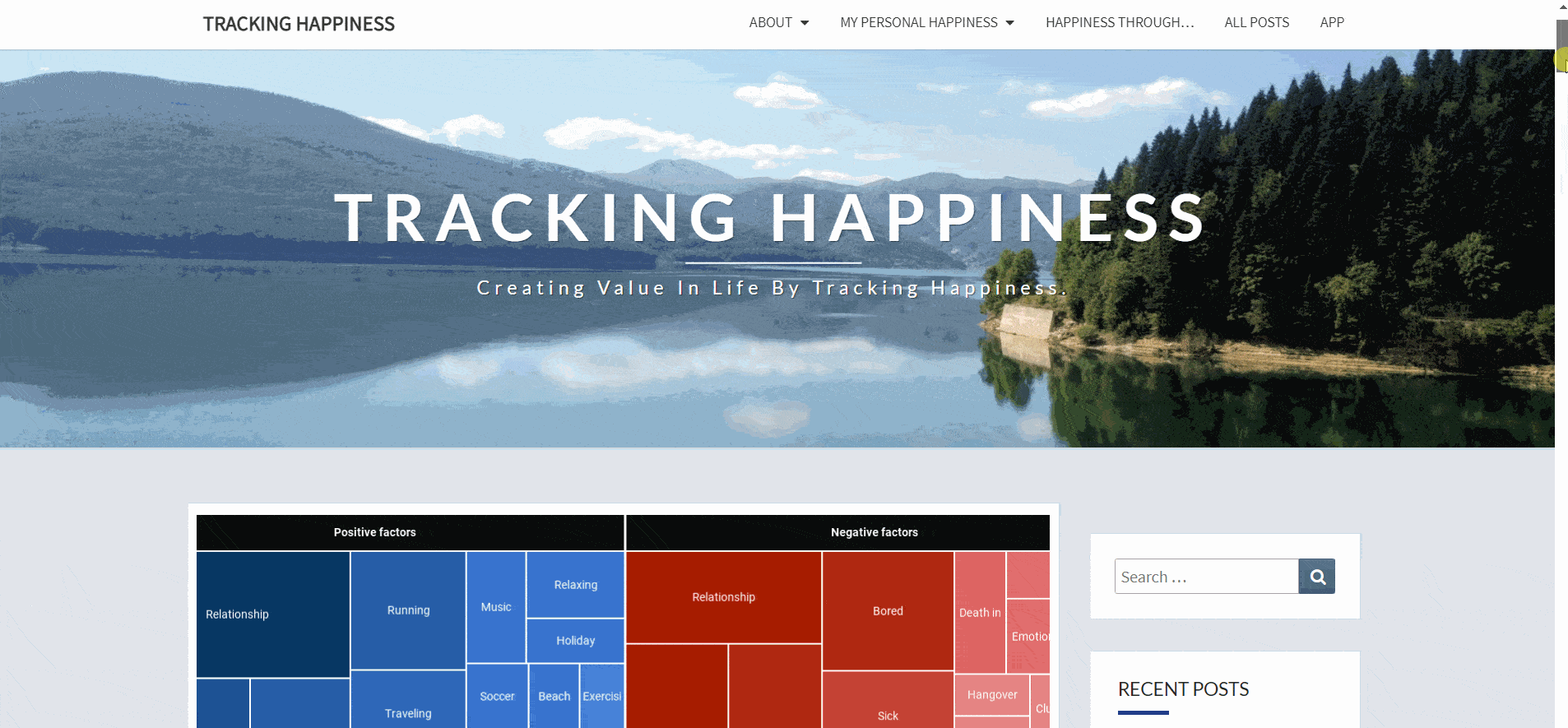 (if you remember this design, that means you've been around for over 3 years already!)
At one point, some people pointed out to me that my homepage wasn't clear. Was this just a blog? What was this all about? These people kindly told me that it should be clear what Tracking Happiness really is.
2018 design
So I spent some long nights re-designing the frontpage into this:
(I discovered the "Title with image background" feature, and opened the floodgates on that one…)
After a couple of months, people started to let me know how much they disliked the specific color blue I used. Also, where the hell is my logo? A site like Tracking Happiness should have a logo!
I eventually opened my wallet and hired someone who could make me a proper logo. Mind you, Tracking Happiness was earning exactly $0.00 at the time, so this was not a light decision!
But I eventually got a logo that is still proudly presented on the site to this day!
Edit: not anymore!
2019 design
Last year, I went on another "design spree" and was quite happy with the result:
I replaced the blue colors with a warm and friendly mix of blue and green. I thought the color palette matched perfectly with the new shiny logo!
At the time, Tracking Happiness was still struggling to reach an audience. But I was already extremely happy with the audience that I had. Mind you, when I first registered the website in 2017, I was just looking to interact with like-minded people.
I woke up to wonderful e-mails from you guys every couple of weeks, which made it all worth it.
After a while, however, I grew kinda sick of that weird half-blue-half-green color scheme.
Also, the website used lots of clunky page builders that are often used by newbies (like me) that are a pain in the @#% to maintain.
So after a couple of sleepless nights and re-iterations, I finally settled on the current design.
For now...
This current design is less colorful and flashy, but I really like the simplicity and minimalistic approach.
In a couple of years, I went from a complete design noob to... well. Uhm. I guess I'm still a total noob. But at least, now I know a little bit more about PHP, JavaScript, HTML, web hosting, and CSS.
Maybe, someday, Tracking Happiness will be praised for its ground-breaking design, but I'm not holding my breath for that one.
Wrapping up
If you want more behind-the-scenes updates like this one, then join the Tracking Happiness community and sign up for periodic email updates here:
💡 By the way: If you want to start feeling better and more productive, I've condensed the information of 100's of our articles into a 10-step mental health cheat sheet here. 👇
This Cheat Sheet Will Help You Be Happier and More Productive
Thrive under stress and crush your goals with these 10 unique tips for your mental health.
Which design did you like the most?
Did you like the colorful designs more than the current one? Or do you think it's all a hideous mess that should be killed with fire?
Let me know in the comments below!