December was very interesting in many ways. Not only did I spend time with my family at Christmas, but I also noticed a lot of stress building up the days prior. Work was very demanding, with multiple projects overlapping and lots of changes in my team. This put quite some strain on me, and I really started to notice the effects on my happiness.
But then – luckily – I got a much-needed break.
My happiness was quite high as a result!
7.98 is quite high, especially compared to the rest of 2018. It's the highest average happiness rating together with April and May.
There's one thing I want to share in this happiness journal update, and that's how I managed to stay this happy under increasing pressure from work. Let's see what it looks like in my happiness graphs!
Monthly happiness
The chart below visualizes exactly what my happiness ratings looked like throughout December. Like always, I have added some comments to this chart to add context.
December started off great. I enjoyed a lot of quality time with friends, family and my girlfriend. It was the easy and relaxing life that I have come to love. Nothing too exciting too exciting happened, but as I know, my happiness is not dependent on constantly doing something exciting.
Rather, I become much happier from the little things in life: playing the guitar, walking in the nearby forest with my girlfriend and just relaxing on my laptop on a Sunday morning.
I managed to do a lot of that at the start of December.
Here's a picture of one of my walks: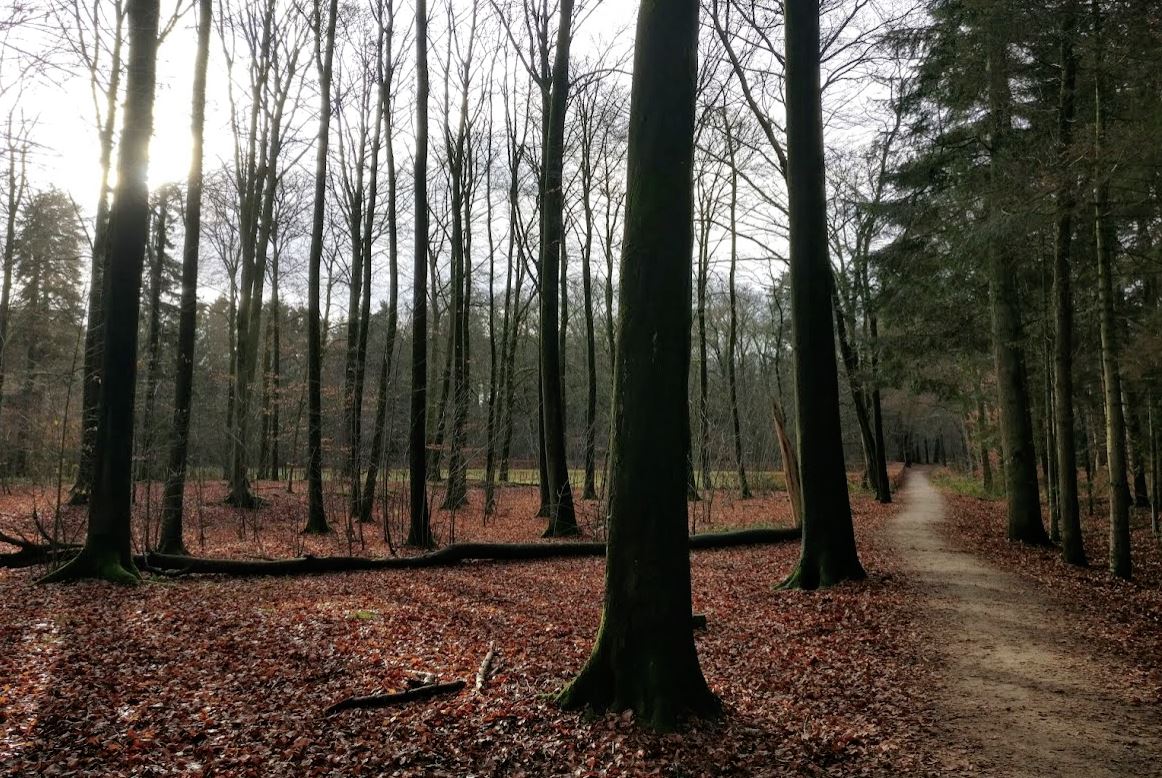 It's the little things like these that made the start of December so enjoyable.
Let's see which other factors influenced my happiness in December!
Happiness factors
The table below shows all the happiness factors that influenced my happiness in December 2018.
Let's go back to the graph for a second.
Notice that slow decline in happiness ratings prior to the Christmas break?
During this time, my work was kicking my ass. I was very busy trying to manage my responsibilities on multiple projects while keeping up with the rest of the team.
You see, my team works in a market that has skyrocketed the last couple of year. The demands for projects has increased significantly, but the capacity of our (rather small) team has always lagged behind. Therefore, it really feels like I've been running on 150% for a while now.
This resulted in quite some stress, which you can read from my happiness journal.
I wrote the following on the 6th of December. I started to notice the effect this high pressure at work was having on me. I rated this Thursday with a 7.75 on my happiness scale from 1 to 10.
A strange day. I was extremely productive at work again. Did a lot of tasks at once and was basically firing on all cilinders. But right after I finished work, I felt super on edge. Really stressed and pressured. Why? I've got no idea, but I don't like it.

Picked up my girlfriend after work, had dinner at McDonalds (oops) and just relaxed. I went for a really long shower, which I normally don't do. I just sat there and enjoyed the warmth of the water raining down on me. It felt like a sincere moment of calmth to me. And I feel like I need more of those moments…

I went to see my friend straight after, and just relaxed. I recently shared Tracking Happiness with him and we just spent the entire evening discussing tactics, ideas and plans. I really liked it. I remain optimistic, even though my patience is tested.

Come to think if it, this website is probably also why I'm feeling slightly on edge… We'll see how it goes.
To me, this journal entry clearly shows my issues. I had a little too much going on at a single moment, and it started to wear me down.
That's where the slow decline in happiness ratings started.
I later noticed it again on the 10th of December. Even though I rated this day with an 8, I still felt quite edgy:
A normal day, like many other normal days. A bit more relaxed and a bit less stressful.

But I keep having the same feelings. Is it a burnout? Maybe? Probably? I don't really know what to think of it. I feel like I'm constantly planning ahead, going from one objective to the other. My mind is always thinking about the next 10 steps, and I find it hard to take a step back and just peace out for a while. It's fucking hard sometimes.

I don't really feel that excited anymore, to be honest. I think I need a break. Some time to just relax, without having to worry about the future. Not just work, but also a lot of other small shit.

I think I overdid it a little in 2018. I mean, look at my holiday to Vietnam… It was madness (hindsight speaking). Hopefully, I'll be able to recharge during Christmas.

/rant

My girlfriend had dinner with some friends, so I had the entire evening to myself. Went out for a 5k run straight after work, which went well! Cooked dinner, worked on my website (there it is again…..) and played some games. Battlefield 5 is a total letdown so far…

Went to bed at 22:00 – trying to be smart and all – but eventually laid awake untill 0:00. For fuck's sake, why can't I just sleep? This is becoming an issue, especially since I set my alarm at 05:45 nowadays due to the job…
Can you see how this feeling of stress increased?
It felt like there was a dark cloud hanging above me, that could start to pour down on my at any moment. I was basically in sprint mode, and needed to reach the finish line.
Eventually, this resulted in the worst day of December on the 18th. I rated this day with a 6.5, purely because the constant stress was getting to me. You can clearly see my frustrations from my notes:
Fuck me. Work was tough. Sleep deprivation and headaches. A feeling of pressure in my head.

I luckily managed to get home in time, in order to squeeze in a short run. My girlfriend and I spent the rest of the evening on the couch. She fell asleep quite early so I tried to play some games to clear my head. Unfortunately, I still think Battlefield 5 is a terrible game. Tried to get to sleep after but failed again. Too many thoughts racing around in my head and it's driving me nuts. I need a break. 3 more days to go…
This busy period eventually pulled me down hard, and it's clear from my happiness journal how I suffered from it.
In the end, I was saved by the Christmas holiday break, which started right after I finished work on the 21st of December.
I don't think I would have lasted another week. I felt completely burned out after this period and needed to catch up on sleep!
But let's get back to what made me happy in December! Here are the happiness factors that positively influenced my happiness!
Positive happiness factors
The chart below shows all the positive happiness factors of December 2018.
I normally only focus on the exceptions during these monthly happiness journal posts. But let's talk about the happiness factor that keeps making me happy, month after month: my relationship.
My relationship
Spending time with my girlfriend is – by far – the biggest positive happiness factor in my life at the moment. We've been together for almost 6 years now. About a year ago, we moved into an apartment together, and I must say: it's really great.
Just hanging around in the apartment
Watching Netflix
Cooking together
Having dinner after a long day at work
Going for a walk together
Sharing our frustrations at work
Goofing around
Etc.
Etc.
These are all things that in essence aren't that extraordinary. But combine these things and they make my normal and uneventful life exciting for me! I feel lucky to have that. 🙂
Running
After signing up for my 5th marathon recently, I prioritized running again! I want to regain my fitness again, up to a level where I can comfortably run a half marathon on any day of the week again.
I've got a long road ahead of me, but I'm excited to start working my ass off again!
Luckily, the weather in December was quite good. It wasn't too cold, actually! I enjoyed running on 11 days, and it definitely had a positive influence on my happiness!
Christmas time!
My family also had a great influence on my happiness, especially during the holiday break.
It's not too surprising, as December is often a month that I enjoy with the family. Christmas is always a good time for me, as I enjoy to spend quality time with my parents, brother, and sister.
My parents in law also took us with them on a weekend getaway to Maastricht, the southernmost city in the Netherlands. We visited tons of Christmas markets, enjoyed a boatload of great food and just relaxed together most of the time. Great fun!
These were the things that kept me happy amidst stressful times! 🙂 Let's wrap this up by quickly looking at all the things I didn't enjoy in December!
Negative happiness factors
The chart below shows all the negative happiness factors of December 2018.
December was plagued by one thing, really: I was way too busy.
You probably already know this from my happiness journal entries.
Every single negative happiness factor that I tracked can be explained by this stressful period.
Lessons learned: I need to do my ABSOLUTE BEST to take it easier in January. In fact, taking things easier is probably my #1 lesson learned from 2018.
But more on that later, when I publish my yearly happiness journal review! 🙂
Closing words
That's it! The last month of 2018 was great, despite a lot of stress and agitation. I managed to stay happy by focusing a lot on the bright side of life! And I got saved by the bell by my Christmas break. Thank God for that!
I'm looking forward to making 2019 an even better year.
I hope these posts give you a general idea of what tracking happiness means to me. Because I'm tracking my happiness ratings and factors every single day, I am fully aware of what I need to do in order to become as happy as I can be. With that said, I hope I can somehow inspire you to also start tracking your happiness. 🙂
If you have any questions about anything, please let me know in the comments below, and I'll be happy to answer you!
Cheers!