This is going to be a shitty update.
I'm currently in one of the worst periods of my life, and I fucking hate it. Wanna know why?
Because I'm currently floating around on a vessel, somewhere off the coast of Russia, working 100 hour weeks in the most stressful environment I've ever been in.
Yikes.
Here is what my happiness looked like in August 2019:
Guess when I started working offshore?
You can probably see why this will be a shitty update. I want to focus on how fucking unhappy I am here. But there is a silver lining, luckily.
I want to publish my thoughts here, for the whole world to see so that I can always look back and learn from it. That's one of the main reasons why I track my happiness: I want to learn from everything I do, in order to steer my life in a better direction.
If you put it that way, this is actually a fantastic opportunity!
What the hell am I doing off the coast of Russia?
A quick recap: I work full time as an engineer for a big contractor in the Netherlands. 90% of my work consists of your typical office job: abusing Excel for stuff that it isn't really made for. And I have to say, I kind of like this part of my job.
However, I am also required to occasionally work on projects abroad when necessary, usually when a challenging situation arises.
This part of my job allows me to see countries such as Costa Rica, Kuwait, Mexico, and Lithuania, which I guess is pretty cool.
What's uncool is that I have to work >84 hours a week, and that's just when things are going okay.
Now let's go back to where I am now: Russia.
From the moment I arrived, the project has gone from good to bad a complete shitstorm in a matter of days. In fact, something shockingly bad happened every consecutive day for 4 days in a row.
This skyrocketed:
My stress
My sleep deprivation
My complete dislike for this kind of work
As a result, my confidence and happiness have plummeted to the ground. I think the last time I was this unhappy for such a long time was either when my girlfriend and I were in a shitty LDR, or when I was in a similar situation in Kuwait.
What my days look like here
Are you ready for a boatload of misery? Good, because I'm going to share with you what my days here look like.
I wake up at 16:30 in the afternoon.
Huh? Why don't I wake up like a normal human being? Because I'm working the night shift, baby! Woohoo! (I still have my sarcasm)
I have breakfast and run/walk on a treadmill from 17:00 to 18:00.
I meet my colleagues to find out what happened during the day, and what additional things I have to work on this night.
19:00 I transfer to the vessel I'm here for and try to manage and have a positive influence on the results untill 08:30 in the morning.
I'm back at 09:00 and if the head office doesn't demand a call from me, I try to call my girlfriend.
I'm back in bed at 10:00 at the earliest…
Does this sound like fun to you? If yes, then please interview for my job. You can have it because I'm honestly sick of it at the time of writing this.
This is easily the most stressful period of my life. The amount of shit that has gone wrong, the constant challenges, and the extremely high stakes of the project are really taking a toll on my mental health. I'm sick of it.
How unhappy am I? Ask my happiness journal!
Let me show you what I wrote down in my happiness journal on the 23rd of August. I rated this day with a 5 on my happiness scale.
This day started quite normal. I finished my morning routine as usual and waited to transfer to the vessel. Once I got on board, the shitstorm began immediately. Our progress is drastically lower than expected, everything sucks, but the worst part is that we are actually damaging some of the deliverables of the project that were already finished! For fuck's sake.

By then, it was already too late. Chaos and stress all around. When I was finally back to the accommodation vessel, our team had a meeting, and the conclusion is that I start doing the night shift from now on, in order to prevent this shit from happening again. Someone has to be onboard, sharp and awake 24/7. The initial reason for my visit here is already irrelevant. I'm just here to try to reduce the damage.

Fucking hell, I don't want to do this anymore. This period is going to suck. I have the feeling that it's not going to get any better than this. Ugh.

It's 01:30 now, and I'm trying to stay up as long as possible in order to shift my rhythm into that of the nightshift. On the bright side: this means that I get to sleep in tomorrow.

My girlfriend joined my parents for a big barbecue with the family, and it was a blast apparently. Too bad that I wasn't there. Instead, I'm here in this hellhole, where 99% of my time is devoted to FUCKING WORK which I don't even like. What am I doing here?
Sounds pretty bad, right?
This day wasn't even the worst. A couple of days later, something (really) bad happened on the project and my stress shot through the roof. Honestly, I don't feel comfortable sharing that journal entry with the world… It might be for the best. 😉
Anyway, here are the happiness factors that had a negative effect on my life in August.
"I thought this was a site about happiness…?"
If that's what you're asking right now, then I won't blame you.
But as I said before, this is actually a great learning opportunity for me.
In my opinion, eternal happiness does not exist. Happiness and sadness co-exist and there is nothing we can do about it. Everybody will experience sadness sometimes, no matter how hard we try to avoid it.
That said, there is some sadness that can be avoided. We can't control 100% of our happiness, but we can still control a fairly big chunk of it. That's what this website is about.
To learn from the factors that influence your happiness, and to use that knowledge to steer your life in a better direction.
I now have the opportunity to apply this in real life.
Lessons learned
Now, how will I steer my life in a better direction? The immediate answer is quite simple:
1. I don't want to get sent to a stressful environment like this. Never again.
This is easier said than done, though, since going to projects abroad is part of my job description. That brings me to the next point.
2. I need to sit down with my managers and say that I'll never do these kinds of trips again.
This will be difficult. What if they say no? What if they let me go? In all honesty, I really don't care about these things at this point. I have money saved up (a fuck you fund), I have always performed exceptionally good, and I'm of too much value to my boss right now. I'm pretty sure they will budge.
If not, then I really have to consider my career options. I'm very serious: I'd rather lose my job than to get sent to a similar situation like this again. I value my happiness too much for that.
One of the benefits of working the nightshift: you get to enjoy both a beautiful sunset AND sunrise.
Why I track my happiness
"I fucking hate my job and I wanna quit."
Everybody has probably felt this way before. And most people put up with these feelings and just let it slide. I don't want that. I never want to find myself in a similar situation ever again.
In my case, this is not just a rant, this is a message to my future self.
Dear Hugo, please don't ever allow this to happen again. You're young and not directly dependent on your paycheck! Choose your own path instead of your employer's path. Choose happiness. Nobody has ever regretted that.
It'll be interesting to see how this turns out.
What I do know is that I'm very happy to be independent from my monthly paychecks. If I were to quit my job (if), then I'd be able to give myself some much-needed rest before finding another job, without having to worry about money. Thank God I have a fuck you fund.
Anyway, I'll have to stay on this project and ride it out until the 10th of September. Hopefully, I won't get a heart attack before I leave. I can't wait to be back home.
Let's talk about things that actually made me happy in August!
Positive happiness factors
Here are the factors that had a positive influence on my happiness in August.
Even though it feels like it's been ages, I actually did have some fun in August. That was when I was still living my normal life in the Netherlands. Here's a sneak peek of what happened, in completely random order:
My girlfriend and I went to see The Lion King, and I absolutely positively did not cry during the scene where Mufasa dies.
Spend a lot of time outside with my girlfriend, trying to enjoy the beautiful weather as much as we could!
I love spending time outside like this, after a long day of work.
I went to a spa for the first time in my life. I always thought I'd be completely bored within seconds, but I fucking loved every second of it! It was reaaaally relaxing and lovely. (I realize this sounds really feminine, but fuck it!)
I'm at season 8 of the Office again, and I'm still loving it. (This is only my first rewatch, which a lot of diehard fans think is pathetic)
I went mountain biking again for a full day and it was a lot of fun.
Oh, I skateboarded a LOT in August. As I promised myself last month, I went to the local skate park whenever I had the time for it. And I had a BLAST! I am pretty sure that I found a new hobby! 🙂 Have I landed a 360 flip yet? I'll share more details on that next month! Here's a picture of one of my attempts.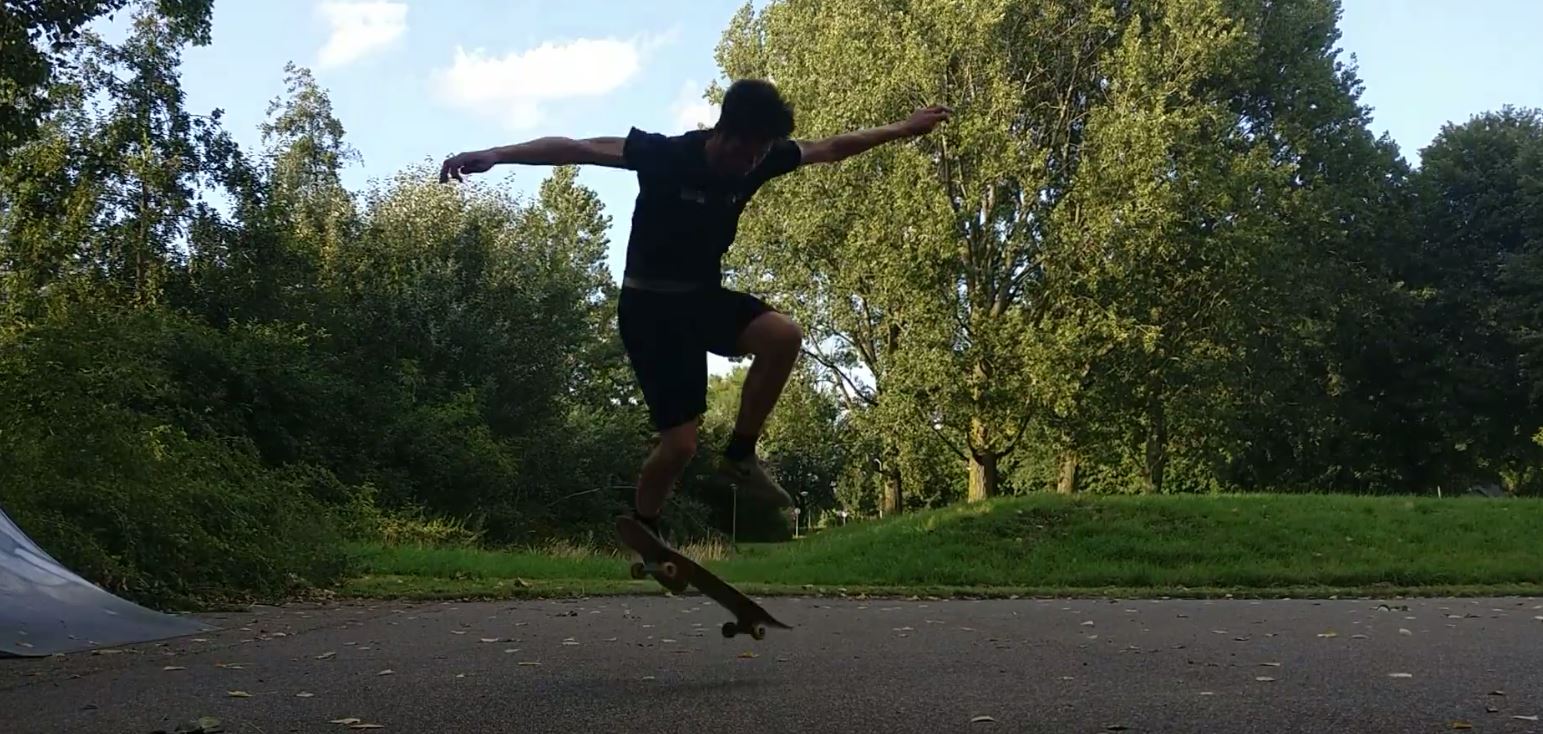 Trying to land my first ever 360 flip!
I ran quite a lot in August, but that number is a bit inflated since I run on the treadmill pretty much every day now that I am offshore. I don't enjoy it as much compared to just running outside, but it gets the job done. Either way, physical exercise has definitely been a huge positive factor for my happiness this month!
On my way to Russia, I stopped over in Kotka, Finland, where I had some time to kill. So instead of waiting in the hotel lobby, I rented an electronic scooter and explored the woods around the city. Even though I was all by myself, this was a LOT of fun!
I rented this bad boy for 2 hours in order to do some sightseeing!
Some beautiful sightseeing I did during my short time in Finland.
That's it for now.
I literally don't have more time to finish this update. I'm publishing this on the 4th of September, which means that I'll have to stick it out for another 6 days. Hopefully, I can turn September into a happy month once I'm back in the Netherlands.
Even better: my girlfriend and I going on a 10-day vacation to Bosnia! Ahhhhh… Vacation. This word sounds like music to my ears right now. Just a few more days, Hugo…