April was fun and exciting! A lot of cool stuff has happened, and as a result, I'm happy as I'm typing this monthly post. April was great in pretty much every way.
A lot of interesting stuff happened. The biggest things that I want to show here are my holiday to the BEAUTIFUL Azores, and my fifth marathon (oh boy). Since I am lacking creativity at the moment, I'll go ahead and call this Monthly Happiness Journal "Marathon And Exploring The Azores"!
My average happiness rating was 7.88, which is a good sign!
I rate my happiness on a scale from 1 to 10 every single day. I was pretty happy in April! 🙂
This average happiness rating alone doesn't really mean that much, though. Let's have a look at the daily happiness ratings!
Monthly happiness
The chart below visualizes exactly what my happiness ratings looked like throughout the month. As usual, I have added some comments to this chart to add context.
This chart is actually pretty interesting since it looks to be quite messy. There's quite a lot of deviation in my daily happiness ratings. Despite the numerous cool stuff I did in April, there were apparently some parts that I didn't enjoy as well. I'll try to cover it all in this update!
Let's start with one of my proudest achievements: I finished my 5th marathon!
Here I am during the race:
During all my previous marathons, my goal had always been to finish in 4:00:00. I only managed to squeeze by this time on my 3rd marathon.
This time, my goal was less ambitious, and I aimed to just finish without "hitting the wall" or needing to walk. My training was far – like, FAR – from perfect, so I just wanted to see where the ship sailed.
Unfortunately, the weather was really hot that day. If you ever want to visit the Netherlands on a nice sunny weekend, look for the Rotterdam marathon weekend date and book it! Sunny weather is guaranteed. It sucked because I've been training all winter in nice and chilly temperatures, and then D-day arrives and I'm suddenly running in tropical conditions.
Anyway, I finished the damn thing in 4:28:30 and I'm happy with that. It was definitely my hardest marathon so far and given the lack of training, I'm just happy that I finished this grueling distance for the fifth time in my life. I ran the marathon on the 7th of April, and I rated it with an 8 on my happiness scale. My sister also finished, which made it a great experience for both of us. It was a good day!
If you want, you can read more about how running influences my happiness here.
Before continuing, let's have a look at what factors influenced my happiness in April.
Happiness factors
The table below shows all the happiness factors that influenced my happiness during this month.
Right after finishing the marathon, I had to meet my girlfriend at the train station. Why? Because we were flying to the Azores the next day at 06:15 AM! It was a busy and hectic day, but it was the start of something great: our 2 week holiday to the beautiful Azores.
We spent 2 weeks in total on 3 different islands:
It was a stunning holiday, and it was the main reason why April was such a happy month for me.
Here is a taste of how beautiful these islands really are!
Our holiday to the Azores
I haven't yet shared many pictures of myself on this website, and I´m ready to change that. I mean, this is still "My Personal Happiness Journal", right? Here I am, smiling at a vantage point over the many crater lakes around Sete Cidades!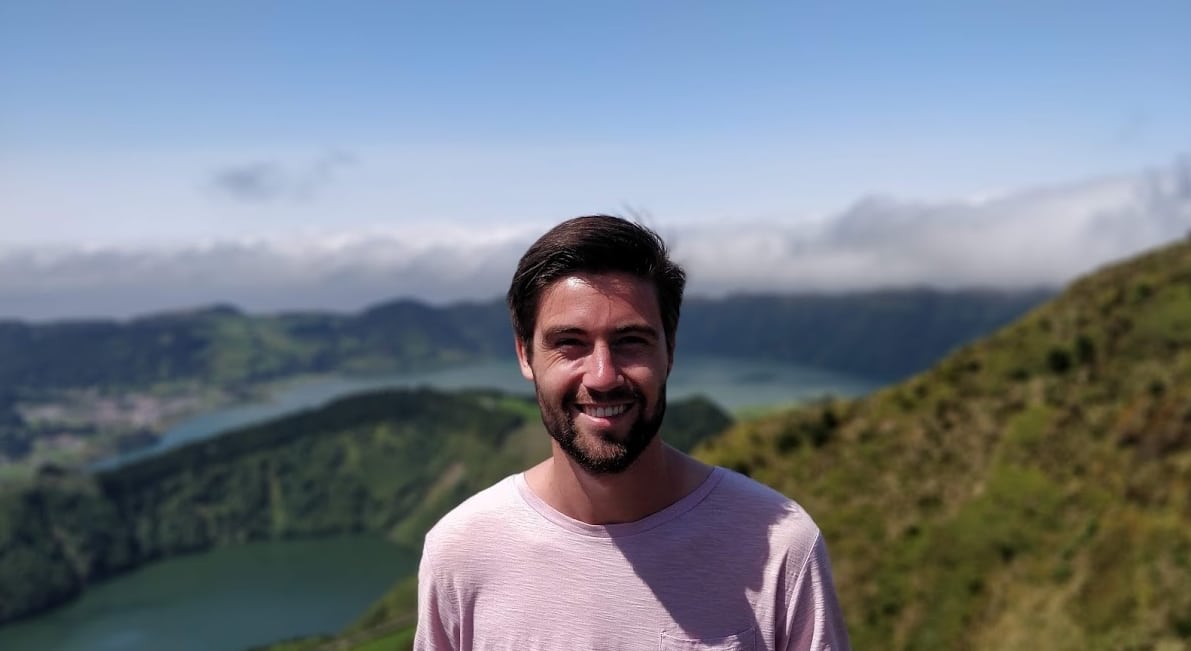 The weather on Sao Miguel – and every other island in the Azores) – is very unpredictable. When the forecast says "sunny weather and blue skies for days", you should still bring your raincoat. This was a pretty big lesson for us. We needed to fully take advantage of every bit of good weather. And when the sun didn't shine, we just had to find things to do that didn't require the sun.
On days filled with overcast, we went surfing and visited nice coffee bars. We also hiked through a pretty cool rainforest!
I want to give you a peek inside my happiness journal to give you an idea of how much I enjoyed our simple life on holiday. I wrote the following on the 13th of April. I rated this day with an 8 on my happiness scale:
Another really good day. It rained the entire day so we just slept in and enjoyed a quiet morning in our hotel. We checked out at noon and went surfing for 2 hours. It was really fun, but a little more difficult than we expected. The next time, we'll take a lesson together. It was a great way to spend the time though, with this crappy weather.

We drove all the way to the other end of the Island to Nordeste, and checked into a beautiful hotel. We shared a bottle of red wine at dinner and had a great night together. A great way to end a great day!
It's days like these that make my life happy. Before I continue, let's have a look at all the factors that had a positive effect on my happiness.
Positive happiness factors
The chart below shows all the positive happiness factors of April.
Again, my relationship has been the biggest positive influence on my happiness.
You see, I can travel the entire world, visit the most beautiful places every single day, while on my own. But it probably wouldn't make me as happy as my normal regular life with my girlfriend. Now, it's obviously fantastic when these things combine: traveling and spending time with my girlfriend.
And April had plenty of these days!
Here's another bunch of cool photos from our holiday to the Azores. 🙂
We eventually traveled from Sao Miguel to Faial, where we rented another car in order to circumvent the island.
We only stayed on Faial for 2 days before heading back to Pico by ferry. We used the remaining time on the island to drive around, relax and do some wine tasting together.
It's funny how all the islands share similarities but are still unique in their own way. I really liked how beautiful the rolling hills of Pico were when we drove through its backroads on our first sunny day there.
Long story short, our holiday to the Azores was fantastic.
It was exactly what my girlfriend and I needed, and despite some crappy weather, we had a blast during our two weeks there!
PS: for those who are wondering why Game of Thrones is logged as a positive happiness factor, here's the deal: I watched episode 3 of the last season last week, and it was AMAZING. I thought about it when logging my happiness in my journal: "am I really going to add Game of Thrones as a happiness factor?" Fuck yes! It was an awesome episode. I've never been so absorbed in a TV series… If you've not watched it yet, you've got no idea what you're missing!
Let's get back to more serious matters (as if my happiness is a "serious" topic…)
What caused the deviation in my happiness ratings that I showed before in the line graph? Let's find out.
Negative happiness factors
The chart below shows all the negative happiness factors of April 2019.
There were 3 notable things that happened that resulted in dips in my happiness:
Our first flight from Sao Miguel to Pico got severely delayed due to winds, and we weren't really prepared for that.
Result: we were stuck at a gate without any food for over 4 hours, wondering if our flight was going to continue at all. This unfortunately caused some annoyance and stress, which resulted in a small dip in my happiness during this otherwise awesome holiday.
Our journey back to the Netherlands lasted the entire day and was quite exhausting.
This is not something that could have been any different, though, so I'm not bitter at all about this. It was a long journey, but the trip was definitely worth it! I would do it again in the blink of an eye! 🙂
On Kingsday – a national holiday in the Netherlands – I got a huge freaking pain in my neck out of nowhere. It developed in the span of 15 minutes, without any direct cause as far as I know.
The result? I was stuck in bed the entire day and couldn't really move without feeling pain as if someone was stabbing me in the back with a sharp knife. It was fucking bad, actually.
The only reason why I didn't rate this day with a 4 or 3 is that my girlfriend was awesome and stayed with me the entire day. This definitely cheered me up.
What have I learned? My girlfriend and I expect that this pain in my neck and back is caused by the big amount of work I do behind a computer. As a result, I don't always get the right amount of body movement throughout the day. This is something I want to pay attention to. How am I gonna tackle this? Go for more walks throughout the day! This is something that I enjoy doing anyway, so why not kill two birds with one stone, right? 🙂
Closing words
That's it again for this last month!
April has been a blast, and this year is slowly turning out to be another great year. Let's keep this up!
I hope these posts give you a general idea of what tracking happiness means to me. Because I'm tracking my happiness ratings and factors every single day, I am fully aware of what I need to do in order to become as happy as I can be. With that said, I hope I can somehow inspire you to also start tracking your happiness. 🙂
If you have any questions about anything, please let me know in the comments below, and I'll be happy to answer you!
Cheers!