Despite what mathematicians, scientists or statisticians tell you, it's actually very simple to measure your happiness. This post shows you exactly how to measure happiness and just how easy it actually is.
Truth is, you don't need fancy questionnaires, guidelines, and specific circumstances to measure your happiness. All you need is a little bit of consistency and the knowledge that whatever you measure might be biased.
If you can get over that, then measuring happiness is super easy.
Here's how:
Measuring your happiness is super simple and takes less than 5 minutes per day.
The entire method that I'm going to discuss here is based on three simple ideas:
Step 1: Measure your happiness
Measure happiness based on your gut feeling, on a scale from 1 to 10.
Step 2: Determine the happiness factors
Which factors influenced your happiness, both positive and negative?
Step 3: Keep it up and learn!
As you continue measuring your happiness, your data will become more valuable.
How to measure happiness?
I've covered these 3 simple steps in more detail below.
If you are already ready to start measuring your happiness, then you can simply scroll down to the bottom where you'll find a quick demo of my happiness measuring method, including a free template!
Step 1: Measure your happiness on a scale from 1 to 10
The first simple fundamental idea is that you can rate each and every day on a scale from 1 to 10. These ratings are called "Happiness ratings". You should be able to measure your happiness at the end of each day, giving you a single rating per day.
You can see it as a happiness scale. If you were to grade your own happiness, how high would you rate it?
If you experience a bad day, then you give it a low rating. If you experience a very happy day, then you give it a similarly high rating.
Surely, this is not rocket science!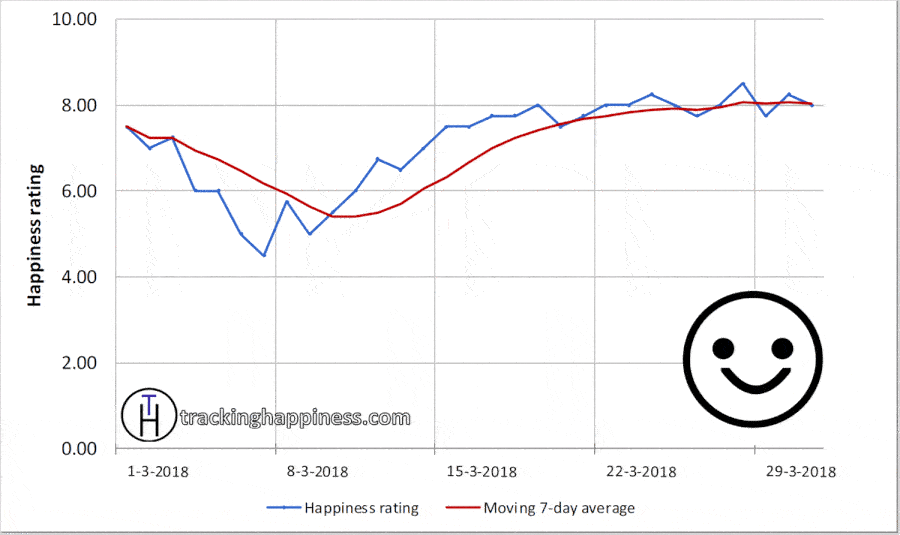 Determining a happiness rating every day is the first step of our happiness tracking method
Now, this is where a lot of people find objections.
I've heard these arguments over and over again:
How can you measure something that's so subjective?
It's impossible to objectively judge our own level of happiness for an entire day, as it changes from hour to hour
There are dozens of biases that are proven to influence your feeling of happiness. Therefore, a single happiness rating cannot be trusted.
etc
etc
It's important to know that these concerns are all VALID.
But it's even more important to not let these concerns stop you from measuring your happiness!
We are not robots. We are bound to make some illogical decisions when measuring happiness on a scale from 1 to 10. The most important step here is to accept that your happiness ratings won't be perfect. In fact, it's a waste of time to carefully analyze whether your happiness rating should be a 7.7 or a 7,8.
It doesn't matter!
As long as we are at least be aware of our biases. Consistency is key here.
Your happiness data becomes more valuable over time, especially when you remain consistent in your judgments.
Step 2: Determine the happiness factors
The second step of measuring happiness is to determine which factors have had an influence on your happiness rating.
This is based on the assumption that you eventually want to analyze your measured happiness, and turn it into something you can use. Well, that's why you also need to measure your happiness factors.
For example, if you had a bad day at work then you should track "Work" as a negative happiness factor. Similarly, when you had a great date with your partner or significant other, then absolutely track your "Relationship" as a positive happiness factor!
The list of happiness factors is virtually endless and obviously varies per person, but be sure to be as honest as possible here.
You can see an example of my own personal happiness measurement data below.
You should know that we are not interested in insignificant happiness factors.
I mean, if you had a small argument with your partner but you quickly got over it, it doesn't make sense to track your "Relationship" as a happiness factor. We are only interested in factors that have a noticeable influence on your happiness.
Sure, if that argument with your SO develops into something much bigger, then by all means, track it as a negative happiness factor.
What I'm trying to say here is that stubbing your toe on the edge of the bed might cause you to scream out for a minute or two. However, you'll probably quickly forget about it once the pain is gone. Therefore, this won't have a lasting effect on your happiness. You probably won't even remember stubbing your toe at the end of the day.
If we included every single factor – like stubbing your toe – it would be pretty hard to learn from this habit, right?
That's why my free happiness tracking template includes room for four positive and negative happiness factors. This has always worked for me. Of course, you're free to do whatever you want!
Step 3: Keep it up and learn!
The last step to this measuring happiness method is to just keep up this process for as long as possible.
If you measure your happiness on Monday but don't follow up with it on Tuesday, then your data is pretty much useless. One happiness rating in itself has no analytical value.
But as many statisticians know, the more data you collect, the more reliable, interesting and eye-opening the results are going to be.
It will not take long before you are able to spot trends in your happiness.
Pretty soon you will be able to determine what exactly makes you happy in life. And once you know just that, you will be able to create more value in life by focusing on the things that make you happy!
Platform
I use Google Spreadsheets to track my happiness. I find it extremely convenient to use, as I can access it from my smartphone, tablet and laptop. It saves the data in the cloud instantaneously, and I never have to worry about losing my precious data. It comes with some analytical computing capabilities, but it's also super easy to export your file to your preferred format!
Another advantage of Google Sheets is that you can use my templates for free right away!
So what are you waiting for? Start tracking your happiness right away!